Posted by jonesgurl in resurrection sunday.
Tags: easter, peeps, sacrifice of jesus, sacrifice of self
add a comment
this is a repost from last year easter week…
holy week is a good time for revival of our soul and relationship with God and to basically lose your religion.  so with that being said, i was just thinking about a few things as i was hanging out with my peeps…
being a candy addict, i certainly can appreciate all the yummy seasonal candies that arrive just in time for us to fill those easter baskets.  one of the fun parts to the weekend is raiding the easter basket of my myles. mmmmmmm, num yummy.  okay, it's more like pillaging his easter basket when he is not looking. oh, i hang my head in shame with a peep hanging out of my mouth.  teehee. 
 my family and i engage in many different holy week and easter weekend festivities.  the thoughts and the rush of all the following will be happening in many different families, homes, churches, etc:  little girls and their adorable little easter dresses, little boys wrestling with their ties that match their easter suits.  there won't be a shortage of easter hats, easter baskets, easter candy, easter shopping, big family easter dinners, easter sales, easter egg hunts, easter hair-dos, easter pageants, easter shoes, easter ham, easter cooking,  and so on and so forth.  by the way, what does ham have to do with easter?  i've always found that to be strange interesting.  anyhoo…
all of these things many of us have done or will do annually, without fail, sometimes with much angst…religiously.
for some people, holy week is a time to revive their relationship with Christ or maybe for the first time are reconciled to Christ.   we acknowledge, recognize, celebrate, remind ourselves and stand in awe of  what happened over two thousand years ago on our behalf. 
as my heart is stirred and i stand at a loss for words for the example Christ was for us.  even in the midst of extreme torture, what strikes me as one of the most profound moments of that night…"father, forgive them, for they do not know what they are doing" 
as i acknowledge what he did for me and how he did it – it's enough to make me lose my religion.  by religion i certainly don't mean to not go to church or to not believe in God.  as a person who believes in being passionate about life and whatever you put your hands to, i feel just the same about not being religious about how you do church, but getting passionate about living as Christ lived.
as we well know, to live as Christ lived was not out of ritual and there was much sacrifice involved.  and as you can tell by some of his last words, it was not easy to take it all…for us.
to celebrate this holy week and all the activities that go with it, remember to focus less on the rituals of the season and take your mind, heart and soul to a place of holy renewal, holy wonder, holy awe, holy belief.
i'll never be able to wrap my head around the sacrifice and the passion of our Lord.  but i would much rather live as passionately as he did and lose my religion any day.  that certainly doesn't mean that i will lose my belief in Him. 
Posted by jonesgurl in my ramblings....
Tags: big butt, getting in shape, peeps, workout
add a comment
for most people it takes energy and scheduling and such to fit your workouts into your day.  anyhoo, it's apparent by the bit of a belly bulge that i have, that i have not scheduled or fit any type of workout into my days as of late.  the only thing that i've fit in has been all the mmmmmmm, yummmy sweets that i fit into my mouth.  remember, i told you some time ago that i love my peeps and all kinds of other sweets.  if you put a wholesome meal before me and a bunch of sugar infused treats…i would trade it all for this –
mmmmmm, CANDY!
COTTON CANDY…DA BEST!       (MAIN COURSE)
RED TWISTS (SIDE DISH)
 PEEPS! (DESERT)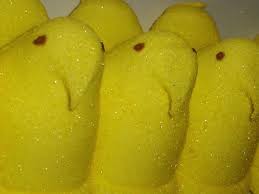 so needless to say, besides the belly bulge, lately my bootay has also grown a bit. 
i've figured out a way to slip in my workout while playing with my myles at the same time.  no schedules, no hassles, no need for a gym membership…just pure fun.  here's secret to working out and getting in play time with your little one.
1)   turn up the music and  have a 15 to 20 minute dance party.  your kid(s) will love it and you will feel it for sure.  the following, should give you a little incentive…  go toni. go toni go toni. do the robot. go. go. go. wooooooo.  yes, that was just me breaking out the dance moves.
2)   take your kid on a bike ride, except you won't ride your bike, you will run beside him/her.  your run may not be as fast a you'd like for it to be, but it will be at least a 20 to 30 minute run.  if your child is older, you just might get a chance to run for pace and run for a longer period of time
3) if you're a sahm (stay at home mom) and refuse to leave the house until you've cleaned every nook and crany, you could make sure that you're moving constantly while cleaning and moving briskly around the house.  also, while trying to catch up on your half-hour tv show, use your resistance bands and do your moves while you looking at the television.  that's worth at least a half hour of strength work                                               
– or –
make sure that while you're cleaning and picking up toys and going up and down the stairs, make sure your moves are calculated.  tuck and tighten those abs as you bend and pick up.  also, here's a bonus –  going up and down the stairs for one thing or another certainly helps with the glutes and cardio. (after giving birth, i was constantly up and down the stairs and it was certainly not because i wanted to and before i  even realized it, i had begun to take off the weight.  however, i found it again…the weight that is)
that's all i've got for now.  the next time i look in the mirror i hope that i'm not saying what i said the other day…dang – i wonder how many months pregnant is she.  teehee. 
gotta go get fit and fine! c ya
 …and no more of this
Posted by jonesgurl in my ramblings....
Tags: candy, peeps, sugar buzz
add a comment
so, we all know that easter is not about the bunny or the candy or the shiny grass or the glazed ham,mashed potatoes or warm buttered rolls (mmmmmmm-warm buttered rolls). but that certainly does not stop us from indulging in the fun of it all.  i think that i have eaten sooo much food and an abundance of candy that i woke up dizzy (literally) , can you say sugar buzz?.  of course because i'm a sugarholic, i had less of the food and more of the peeps, jelly beans, malted eggs, more peeps and even more peeps.  there is nothing like a marshmallow covered in granulated colored sugar. anyhoo, i'm just rambling as i sit here raiding my 4 year old son's candy stash from easter and eat more malted eggs, jelly beans and now i'm eyeing the peeps again…mmmmmmmmm!